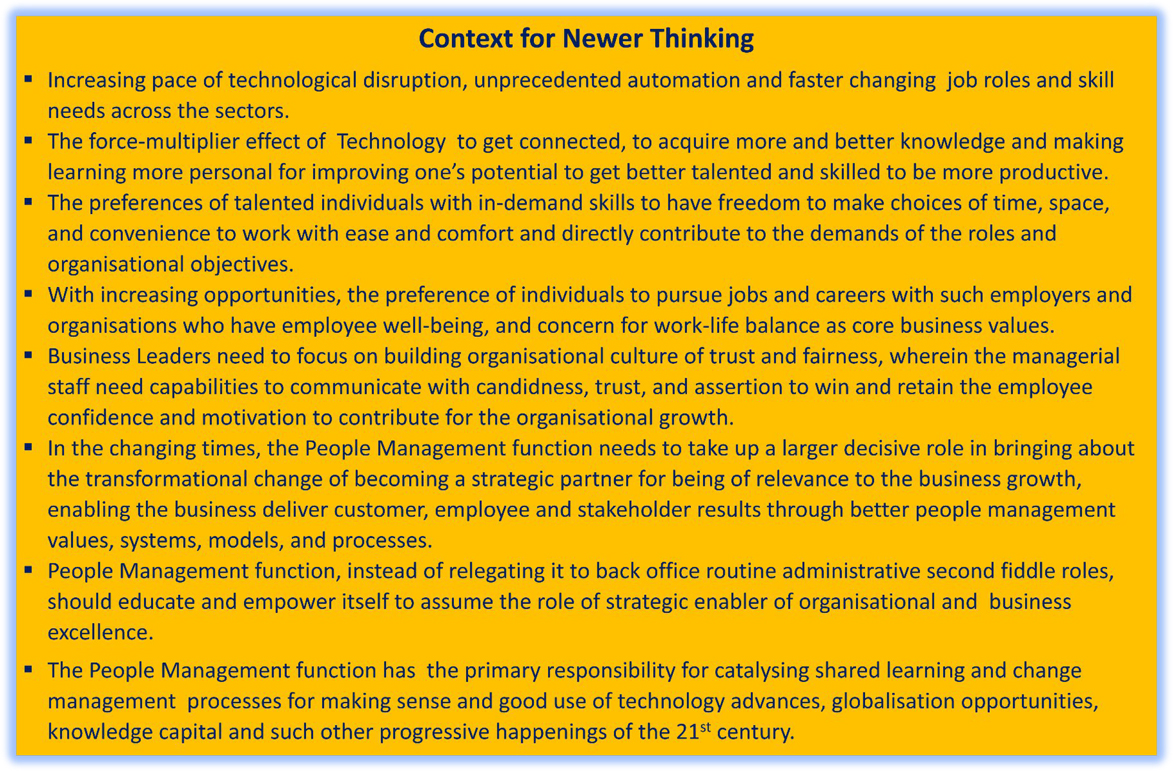 People Management Function - What it is and What it needs to be ?
Best performing organisations clearly understand the critical role of People Management function for driving business performance, and profitability, and organizational growth. They consider People Managment (PM) function as Strategic Business Constituent and involve PM professionals in all the key decisions that affect the performance and growth of the business. On the contray, business and organisations who consider PM fucntion to be just a back-office run the risk of facing talent shortges, disengaged and dissaatisfied employees and ultimately leading to poor employee performance affecting business growth.
The critical and immense challenge lie with the PM professionals in updating their own knowledge and skills and growing in stature and performance to become strategic business partners. It is more of an empowerment earned than just given by the senior management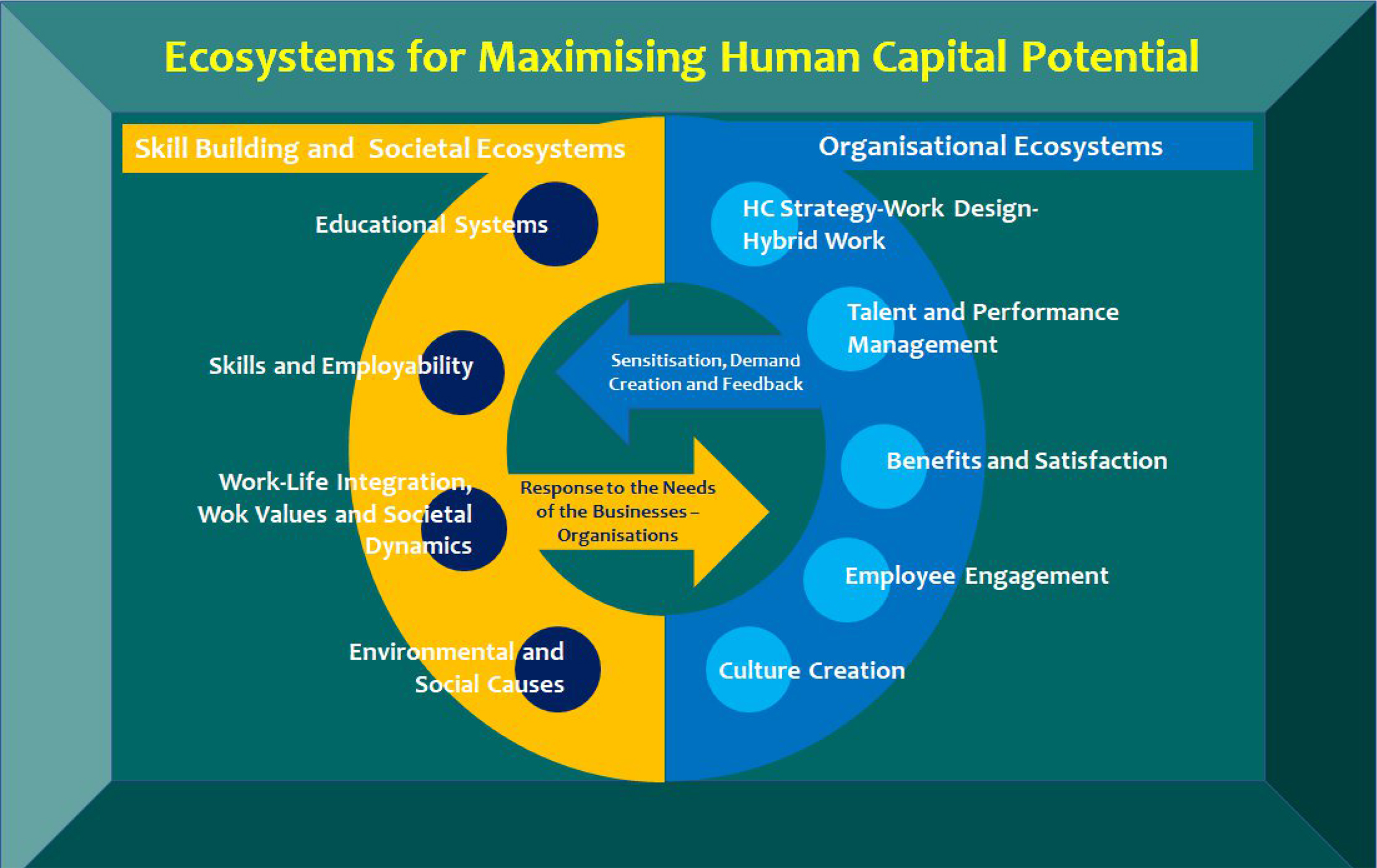 The productivity and effectiveness of the organisational initiatives for building the business specific skills and work values mainly depend on the quality and relevance of basic skill sets and work values with which the employee enters the workforce. The employee's basic skill orientation and the work value frameworks get formed in the external ecosystems of Education, Skil, Employability, and Societal Value frameworks. For getting right fits from the supply side of the workforce, businesses need to essentially communicate with the external ecosystems, sensitize them on the demand side requirements and facilitate them for better productivity, and being business – industry relevant. When the supply side works in isolation, the burden of effort, cost and time spent on making the workforce industry-work ready by the businesses become wasteful and duplicating. For the economy to be productive and create value, the effort, cost, and time spent by the educational, skill and work ethics ecosystems essentially need to be productive, and purpose driven. Businesses need to take up the catalytic roles of sensitisation, metrics specifications and demanding quality outputs from the educational, skill and work ethics ecosystems through collaborations, networks, and sponsorships.
ALMaC provides a comprehensive set of strategic services for the businesses to build the internal – Organisational Ecosystems of People Management Strategy, Systems and Processes. ALMaC also facilitates businesses – organisations to develop collaborative working projects with educational, skill building and societal institutions for getting right fit of skill sets form the supply side of the workforce.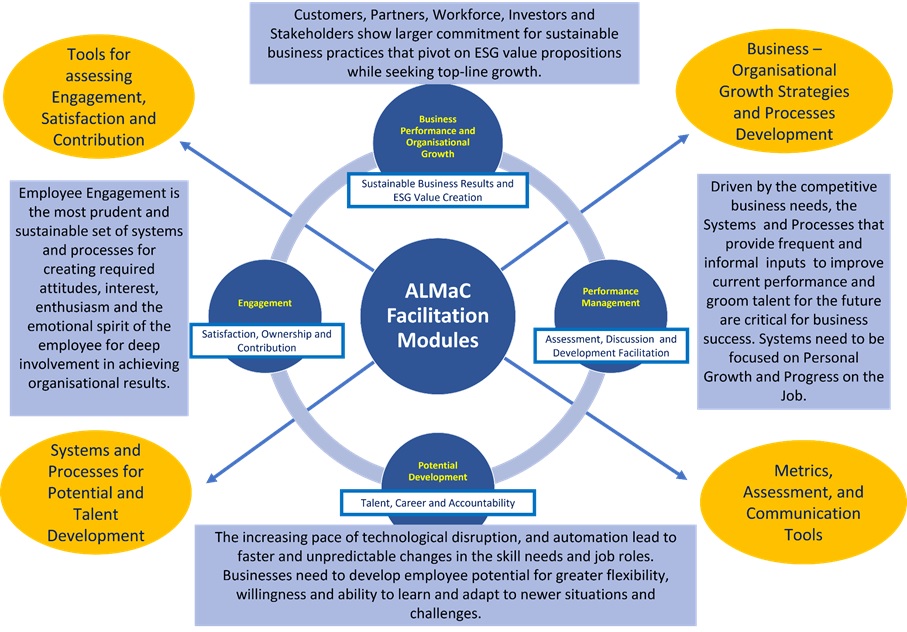 ALMaC provides a comprehensive set of full-cycle services to design, execute, and continually improve upon the strategic sets of People Management Function – People Management Strategy, Performance Management, Potential Development and Employee Engagement.