Overview
Start-ups have great potential for creating impactful economic values, jobs, and positive social and environmental results. The emerging opportunities in technology advancement, and the demographic advantages of the millennials have the potential for creating deeper positive impact on society through the platform of business and social enterprises.
Repeatable process
Breakthrough innovations at scale
Businesses to go even further by improving everything they touch and thriving as a result.
The globalised business environment provides innumerable opportunities for organisations to grow and excel with deft adoption of contemporary technology, business management strategies, operational models, and practices. However, the uncertainties in the competitive environment throw most organizations off-guard and keep them in transient states. Withstanding the business and environmental turbulences, Great Organisations consciously and patiently build and nurture certain fundamental values, skills, systems, and processes.
Fundamental and unswerving emphasis on leadership, customer care, long term focus, sustainable growth, nurturing talents and values, systems drive and fanatic drive for excellence have helped the great businesses and organisations keep pace with change and grow even in turbulent circumstances and established companies in the Micro, Small and Medium sector hold the key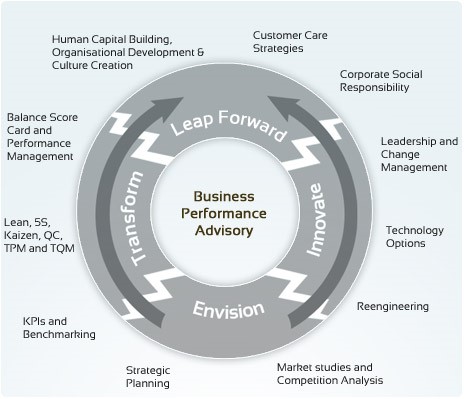 ALMaC helps clients identify these fundamental building blocks and functional disciplines that can catapult the organisation into higher growth and performance curves. The most significant differentiator in our services is our handholding help to the clients in building the necessary skills, systems, processes and organisational culture. ALMaC dedicates its people and resources to enable the client to address the unique set of challenges as they are present in the environment. The results we aim at are making organisations forge ahead in the competition, set benchmark standards for product and service offerings while promoting customer and societal interests, and continuously innovating. Our client spectrum includes a wide spread of manufacturing, engineering, banking, construction, hospitality, health, education, IT/ITeS in the SME and large industry segments. Our service offerings come from the deep understanding and long years of experience of our subject experts in a wide range of private and public service organisations.
Even within a broad indicative set of services, we extensively customize our service offerings to precisely suit our client requirements. We work with our clients at all levels of the hierarchy from top leadership to the front-line operations to move them forward in every aspect of their business-operations - from strategic planning to day-to-day operations.
With our support and services, our clients are able to develop
business-organisational strategies and tactical plans to enter new markets and provide better product-service offerings, better customer satisfaction better operational performance-cost, time and efforts optimisation, efficient and effective products and services delivery competencies simplified, streamlined and standardised systems and processes highly motivated, skilled and performance focused human capital Enduring Performance Culture
ALMaC supports enterprises at different levels in their growth trajectory, with suitable strategic approaches and interventions for sustained business growth. Our in-house developed reference model recommends interventions that are critical to business success in the four core areas of – Strategic Business Growth; Product and Service Offerings; Operations Turnaround; People and Organisation Development.
ALMaC, in its long years of experience found that businesses built on core practices of Total Quality, Customer Focus, Continuous Process Improvement, Technology Use, Employee Engagement and enduring Organisation Culture have higher chances of being competitive in any sort of volatile external environment. We help businesses build required ecosystems to achieve competitive excellence.